iScooter Dropship
What is iScooter Drop Shipping?

Drop shipping is the model without a middleman that offers the opportunity for retailers to hugely benefit by selling products directly from the manufacturers to the customers. Retailers simply place orders on the iScooter website. iScooter will ship the products directly to the customers. Your profit is the difference between your selling price and the listed price of the items on iScooter.


Why Choose iScooter?

Multiple Markets

Earn Higher Profit

Fast and Free Shipping

Our Guarantee


Product Support

We aim to bring iScooter all over the world. In fact, we're already in US, UK, DE, FR and other EU countries. Sellers from eBay, Wish, Aliexpress and other platforms are always welcomed to join us.

Be rewarded with redeemable coupons and offers regardless of your Dropship level.
You can earn rebate up to 17% according to how much of your store sold.

Ultra-lower prices than other platforms.
Besides, we're constantly pushing out promotions to help you get your favorite product for half the cost.

iScooter covers all expenses, from packaging to shipping.
Products will be shipped to your customers in 2-3 Business days throughout UK.

We offer a 14-day return guarantee.
We guarantee you a quick response.
We guarantee your privacy will be respected.

We will provide you with a CSV file daily after the certification, which contains everything you need, link of images, description, stock management.


Showcase of some of our products
| | | | |
| --- | --- | --- | --- |
| | | | |
| i9 Scooter | i9Pro Scooter | i11 Scooter | iX5 Off-Road Scooter |
Can I join if I'll dropship on eBay/ Shopify/Facebook Marketplace…? 👉 ✔
I run an online store. Do I qualify for the Dropship? 👉 ✔
I have many resources for Drop Shippers, can I recommend them to your program? 👉 ✔

The more you sell, the more you earn, the higher your profit is!

Membership Levels
Lifetime Purchases
Save Coupon(OFF)
Level 1
Approved as the iScooter drop shipper
5%
Level 2

Lifetime sales: ≥

€

5,000

7%
Level 3

Lifetime sales: €

100,000

10%
Level 4

Lifetime sales: €

500,000

12%
Level 5

Lifetime sales: ≥€

900,000

15%
For example:
If you successfully join our iscooter distribution program and belong to Level 1, your order amount will be discounted by 15%
For example, you have 20 different orders with a unit price of €300
Your order discount=20X300 EUR X15%=900 EUR

For example, you belong to Level 3, (in the past, you spent a total of more than €100,000 in our store)
Your order discount = 20X300 EUR X26 % = 1560 EUR
If you have exceeded more than €500,000 sales per month, email our Dropship representative at support@iscooterglobal.com to discuss an additional exclusive policy.
iScooter Dropship Program is made up of a strong team to calculate your total sales and orders monthly. All coupons will be rewarded within 3 business days.

What kind of partners are we looking for?
1. Sellers who are able to reach great sales with iScooter.
2. Specialist of one specific product category is preferred.
3.Sellers of excellent experience in retail and customer service. There is a significant number of applications to the program. We are working hard to review your application. You will receive an e-mail either being accepted or not accepted to the program in 7 days.


1.Join our dropship program by sending email to support@iscooterglobal.com
we will answer your email within 24 hours.
2.Tell us something about your company or your website.
This concludes answers of the follwing questions:


Could you please give us a short description of your career?

We want to know where you would do the distribution

we would be appreciated if you can send us the website you sell.
What is the approximate order quantity on your site?

How many iscooters can be sold in a month?

3.Answer some of your questions about this deal, such as the price, the products, warehouses, and so on.
4.Reach a consensus and confirm the cooperative relationship.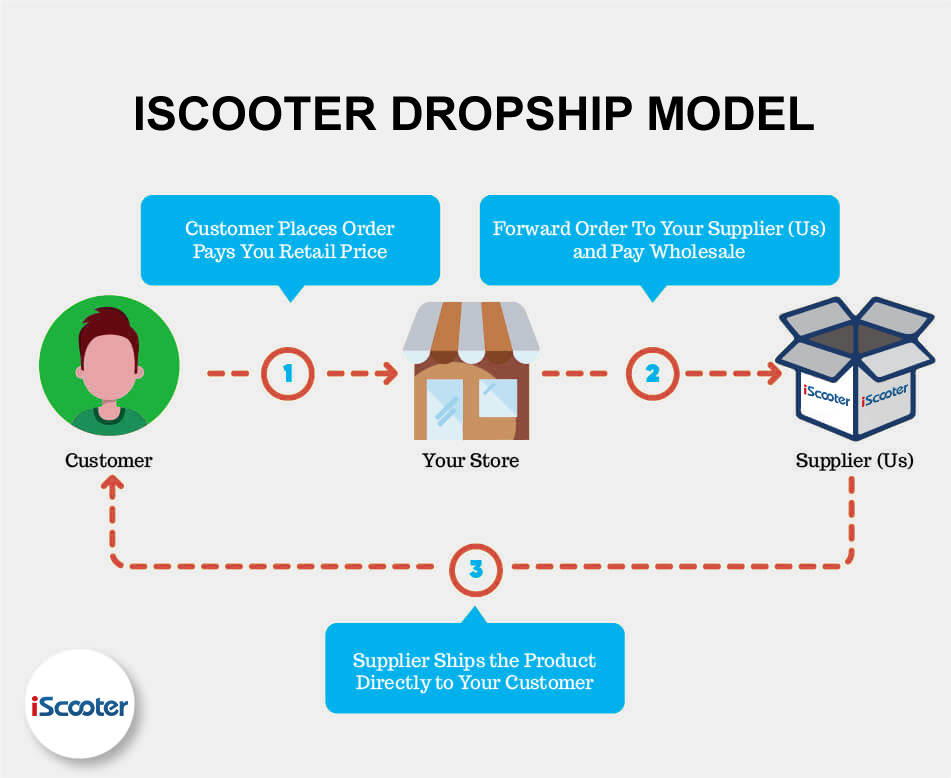 If you are interested, please contact us without hesitation. Please write to us at support@iscooterglobal.com


FAQs
1.How to join iScooter Dropship program ?
Firstly, you should register as our dropshiper for free on our website.
Secondly, let us know something about your business or your company via email (support@iscooterglobal.com) .
Thirdly, after we receive the email, we will process your email and get in touch with you within 24 hours.
Last but not least, after our review, you will become one of our dropshippers.

2.How to make an order discount?
After our review, we will send you the discount code that belongs to you according to your membership level, and provide you with additional discounts when placing an order.

3.Where can I download the CSV file of iScooter products?
After the authentication is successful, you will receive an email and we will provide you with a CSV file containing all the content, image links, description, inventory management, etc. you need.

4.How can I track my packages?
After the item is shipped out, you will receive an email with a tracking number, which can be directly applied to the DHL/UPS/17track website.

5.Do you ship directly to our customers in the UK, Germany, other Europe and the US for free?
Yes, all products on iscooter will enjoy fast free shipping service. We will ship the goods directly from our UK warehouse/German warehouse/US warehouse to the delivery address you fill in.

6.Can I become a dropshipper without a store front?
Hi, having a store is the prerequisite to become the iScooter dropshipper. And we are looking for dropshippers of years' experience in the UK DE Europe US market for iScooter Dropship Program.

7.As a dropshipper, what should I need to be aware of or pay attention to?
Please read carefully the Dropship Terms & Conditions. Any violation might cause your authorization terminated.

Contact Us
For more information you may want to know, please reach out to our dropship service: support@iscooterglobal.com