Scooter Bike Combination Cable Lock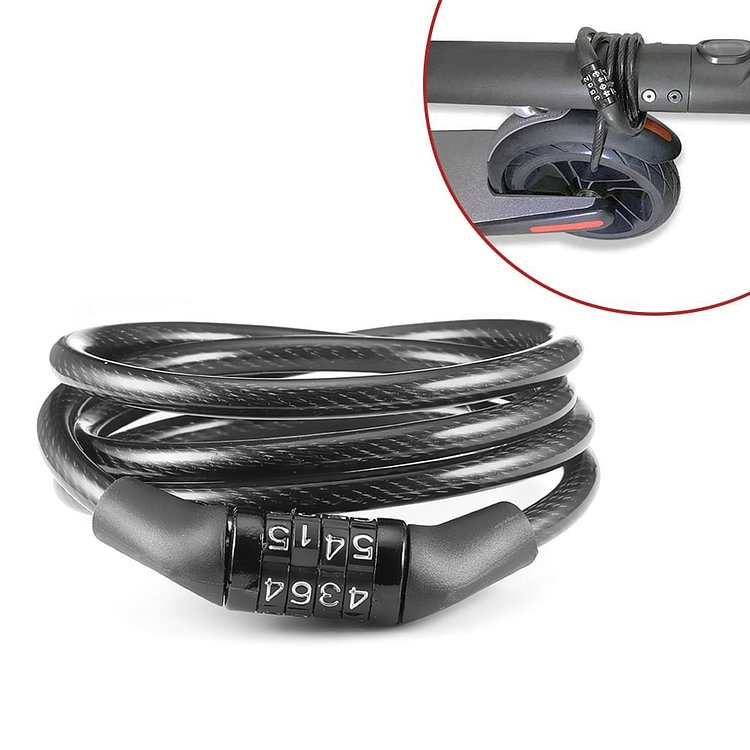 Scooter Bike Combination Cable Lock
Braided Steel & PVC Coating: Scooter cable lock is made of high-strength braided steel wire, which can withstand 2.4KN tension and 7KN shear force, more strength and flexibility. And the protective vinyl coating(PVC) helps prevent scratching more durable wear.
Convenient To Use Without Key: 4-Digit combination coiling bike lock, With keyless convenience lock, you don't worry about losing the key and forget to carry it. Self-coiling for easy storage.
Easy to Attach: Fix the lock on the scooter handlebar while not using it. The cable is self-coiling and compact for carrying. Fixed combination code by the factory, no need to reset.
Lock Application Of Universal Fit: For indoor and outdoor use; Cable lock is best used for iScooter electric scooter. Bicycles, ladders, lawnmowers, and sports equipment. And most modle E-Scooter.
High Security: 100cm long x 8mm diameter with vinyl shell. that is weatherproof and will not scratch your scooter.
At iScooter Electric we are passionate about providing dedicated customer support, so you get total peace of mind with every electric scooter.

1. Do you provide a monthly payment plan?
Not yet, but we are now trying to do so.
2.How long does it take to deliver?
The United kingdom delivery time 2-7 business days. Due to Covid-19, our couriers are experiencing extremely high volumes and reduced staff that has caused delays within their network. We are working hard to ensure all orders arrive in a prompt and timely manner. If you choose shipment to Germany, it will take 2-3 business days; but if you choose send to other EU countries, it will take 3-7 business days.

3.Cancelling Your Order
If you would like to cancel your order, please contact us immediately via our email address: support@iscooterglobal.eu. Please include your order number when contacting us.

4. What is the warranty with this product?
If your item is found to be faulty within 180 days, you have a 180 days manufacturer warranty from the date of purchase.

5. How long does it takes for my order to ship?
We ship in-stock orders as soon as possible. This is often the day you order it or the day after, but there are situations where it may take longer. If your item is in stock, your order is estimated to ship on the next business day. All estimates are based on business days.

6. What is your return policy?
If you are unsatisfied for any reason with your purchase, you can initiate a return or exchange up to 14 days from the date of delivery. For all eligible returns, item(s) must be unused and undamaged and labels and tags must remain intact and returned in their original packaging. Otherwise, the item may not be eligible for return.

Warehouse Address:
Xin Service GmbH- Retoure
Niemberger Weg 1
06188
Landsberg OT Spickendorf
TEL: +49 34602406542